It was great meeting hundreds of IT professionals and tech gurus in the show and showcase our instant recovery software, Rollback Rx.
We also had our staple "Crash and Win an Xbox" Contest which was immensely popular throughout the show!
For those of you who are unfamiliar with the contest, here are the Rules.
The Victim: Windows 10 PC with the latest version of Rollback Rx installed.
The Rules
No USB

No physical damage (Including using Hammers!)

No BIOS Change

No Internet Access
And now, the conditions to WIN!
Step 1: Figure out a method to crash our PC.
Step 2: Apply said method.
Step 3: If Rollback Rx can't restore the machine back to a clean state (working condition)…
You win an Xbox!
This challenge is available for our attendees every year at Microsoft Ignite, however, it's not just limited to them. Anyone can participate in the contest as long as they follow the guidelines mentioned above. This year, unfortunately (or fortunately) no one was able to crack Rollback Rx. We had a couple of close calls! But, Rollback Rx was able to restore the Windows machine back to a clean state. Do note, that the demo pc was using the latest version of Rollback Rx, so for those of you who are running an outdated version, make the jump now! As it comes with heaps of new features and improvements.
We've also leveled up our swag game by giving away mugs for our attendees. The mugs were popular and we ran out extremely quick. We'll definitely have to bring some more next year!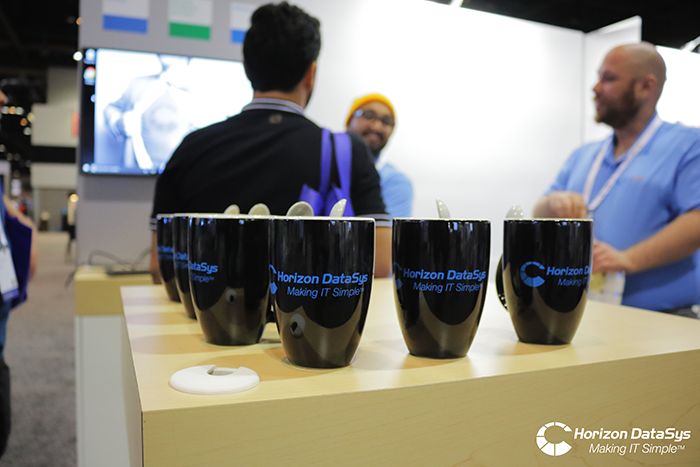 It also wasn't just show floors and tech talk, Microsoft put on a great party at Universal Studios in Orlando. The Horizon DataSys staff enjoyed going on rides, eating some good food, and overall having a great time. Big thanks to Microsoft for putting that on.
Don't miss our new video showcasing RollBack Rx Professional, recorded live from our Microsoft Ignite show. Give that video a thumbs up and don't forget to subscribe to our Youtube Channel, and share it with your family, friends, and colleagues!
On behalf of Horizon Datasys, we thank each and every one of you for spending your time with us. We hope to see you again next year at Microsoft Ignite 2018!