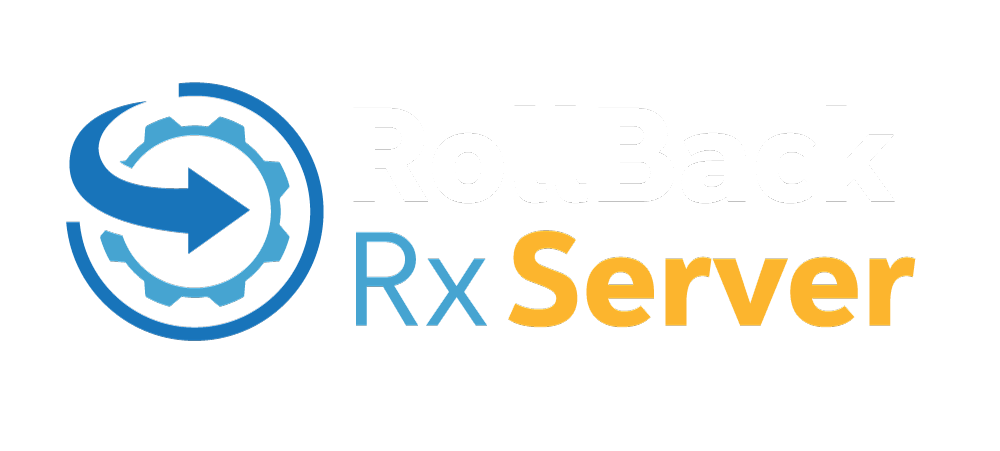 Designed for Windows Server OS
Instant Restore
Restore the system to any snapshot withing seconds.
Disaster Recovery
Restore files and folders from any snapshot or crashed system state.
Instant Snapshots
Take a snapshot of the system within seconds (no reboot required)
RollBack Rx Server Edition
RollBack Rx Server Edition is a robust Windows Server backup and restore utility that enables IT professionals a instant backup capability that can quickly restore mission critical systems back to any number of multiple restore points with unrivaled speeds.
RollBack Rx Server Edition makes it quick and easy to safely sandbox updates and service patches with a failsafe approach to system recovery
Instant (one reboot) real-time recovery
Fully supports active databases (MS SQL etc.)
Fully supports Microsoft MultiPoint Server operating systems
Fully supports RAID 0-6 arrays
Easy migration for drive replacements
Robust disaster recovery protection
Scalable from small business to enterprise-level
Ultra-fast backup with no latency
Restore files, folders, partitions, or whole drives in seconds
Highly customizable backup schedules, and recovery snapshots
On-the-fly background snapshots regardless of database or hard drive size, down to every minute
Instantly perform a complete server rebuild in seconds.
Set-up Multiple levels of access control
Automatically schedule regular snapshots or server restores
256 AES hard drive encryption built in
Day Zero Disaster Recovery with no data loss
Background Backups of Multiple Restore Points
RollBack Rx Server Edition offers unrivaled background protection and real-time recovery speeds. This allows you to store a locally backed-up sector-map repository of complete multiple instances (or "snapshots") of the server state. These snapshots can be scheduled to occur at intervals you specify — as frequently as every minute — and can number many thousands. This continual snapshot-taking can be set to occur in the background with no perceptible impact on day-to-day server response times. RollBack Rx Server Edition easily meets today's big data challenges of backing-up hundreds of millions of files simultaneously without affecting server workloads.
Fully Supports Microsoft MultiPoint Servers
Windows MultiPoint Server simplifies the management of shared computing resources. Windows MultiPoint Servers were designed for non-technical administrators such as teachers. RollBack Rx Server edition enables teachers to instantly restore their Windows MultiPoint Servers quickly and easily.
Rapid Recovery After Disaster Strikes
RollBack Rx Server Edition has lightning-fast recovery times back to any one of multiple available snapshots (as recently as a minute ago) with a single hard drive restart. Accelerate recovery time from minutes down to seconds! But instead of restoring an entire drive back to an earlier snapshot you can instead retrieve specific documents. RollBack Rx Server Edition's flexible recovery options allow you to get a granular recovery of individual files, folders, partitions, whole drives, or the entire array in a matter of seconds. This allows you to recover and continue everyday operations with imperceptible disruptions to your endpoint operations.
Minimal Server Maintenance Downtime
RollBack Rx Server Edition allows you to test the stability and compatibility of system updates before committing to them. You can ensure your preparedness to recover by performing background verification of vital data. RollBack Rx Server Edition provides continuous data protection with very minimal system resources. RollBack Rx Server Edition achieves maximum storage efficiency and optimizes system resources by performing background defragmentation of all your snapshots. RollBack Rx Server Edition also allows you to easily schedule application roll-outs and recurring software and OS updates without service disruptions. The failsafe pre-Windows I/O utility (subconsole or mini-OS) allows you to restore to a previous snapshot even in the event of a catastrophic Server OS failure.
Central Management for Multisite Monitoring
A single, unified control utility provides a powerful means for multisite monitoring and management. This single intuitive console allows even non-technical staff to easily manage all your storage and service access requirements. RollBack Rx Server Edition's powerful built-in AES 256-bit data security ensures comprehensive data protection even in the event of hardware theft. Multi-level access control allows you to define specific privileges to your various staff members.
RollBack Rx Official Video
University of Lima Testimonial
RollBack Rx Official Video (Espanol)
Download RollBack Server Edition
Version: 3.0
Build: 2704376618
Last Updated: 2/08/2019
Requirements: Windows Server 2008, 2012 with RAID 0,1 & 5
VMWare Support

VMWare Support

Subconsole Access

Subconsole Access

Maximum Snapshots

Maximum Snapshots

Multiple Drive Support

Multiple Drive Support

Access Control & Data Security

Multiple User Access / Permissions

Task Scheduler

Schedule snapshots based on time, applications launched, etc.

Remote Management

RMC Access to Clients via LAN or WAN

Server OS Support

Command Line Switches and Batch File Support